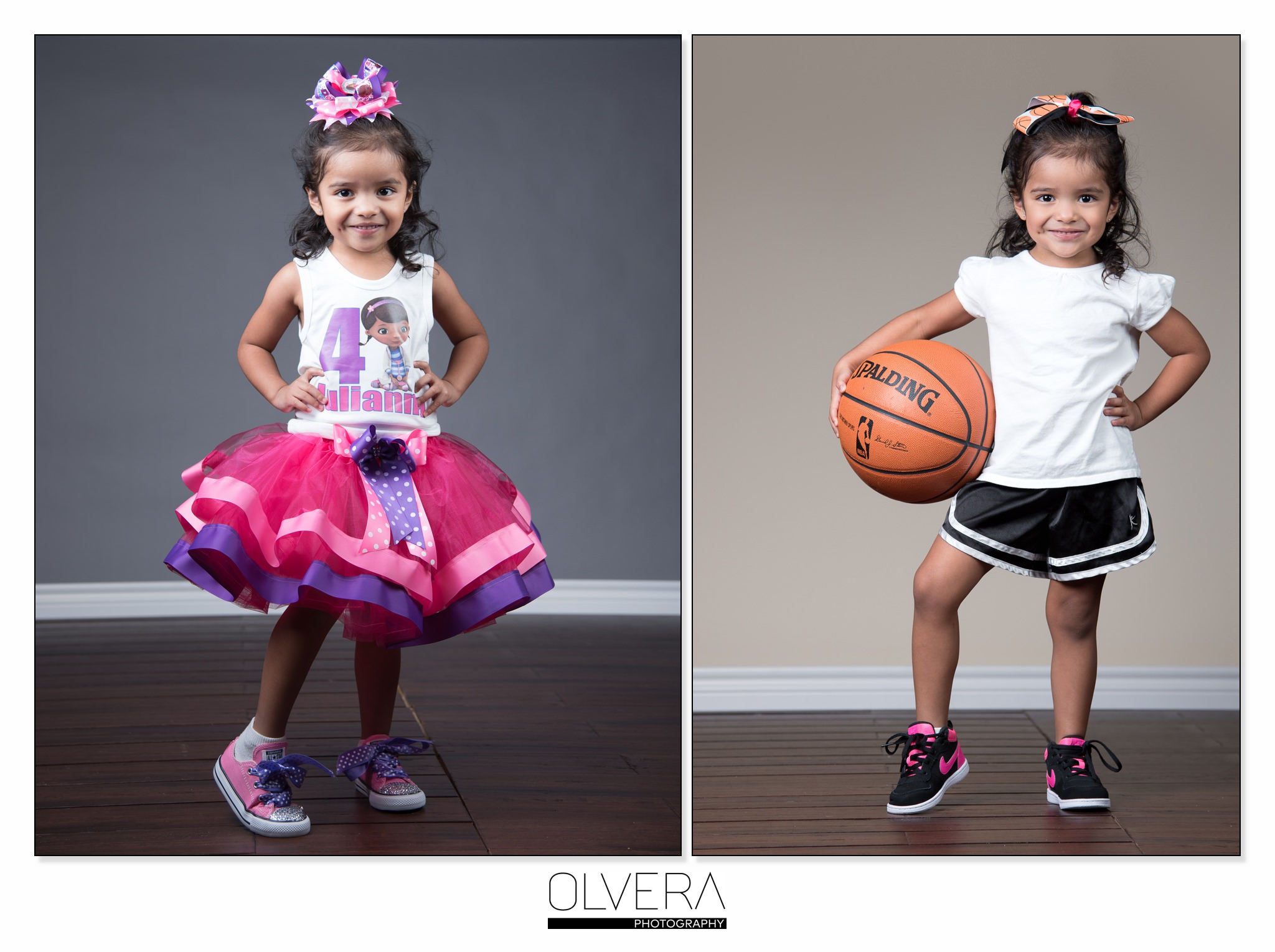 Basketballs and Tutus – Julianna's 4th Birthday Portraits
How much fun were Miss Julianna's 4th Birthday photos?! We had originally planned to do some cute outdoor photos but with this crazy San Antonio weather, of course it decided to pour down rain the day of her session. Luckily, Julianna's mom was on board for a fun rainy day indoor session. From playing dress up to basketball to jumping on the bed, I think it's safe to say that Miss Julianna had a blast! She sure was excited to show off her Doc McStuffins birthday tutu and just as excited to show us her basketball throwing techniques. I think Julianna's favorite was jumping on the bed and hiding under the sheets.
Julianna recently signed up for basketball and she is so excited. Her mom told us that when she wore her new pink and black Nike basketball shoes for the first time, Julianna said, "I feel beautiful". That just melted my heart. All little girls deserve to feel beautiful and we were so happy to capture Julianna with some of her very favorite things. It is so important to us to get to know our little subjects and what they like because in the years to come we want her to look back on these photos and remember what she was like at age 4.
We love recreating memories, how awesome would it be to be able to recreate some of these poses in the future for her High School Senior Portraits? Maybe she'll be on the basketball team in high school, how much fun would that be! When Sam turned 40 I threw him a surprise birthday party at Peter Piper Pizza. Yes, you read that correctly, Peter Piper Pizza! So 40 is a big milestone birthday and for months I was trying to come up with a way to help this birthday become one of the most memorable ones yet. I asked Sam's mother about his 4th birthday party and guess what- she said she had photos from his 4th birthday!!! So I was on a mission to recreate his 4th birthday and put a little spin on it for his 40th! I learned that Sam was really into baseball at that age and his mom had thrown him a baseball themed birthday. I studied his moms photos from 36 years ago and even tried to copy his decorations and cake! With help from some of my friends, I was able to find a location he would never suspect would be for him, order a baseball cake and my good friend Karmen even went ahead of time to decorate and set up. He was so surprised because he thought I forgot about his birthday and that we were about to walk into one of our friend's child birthday party. I couldn't have done it without those photos his mom had. I am always so grateful that his mom took so many photos of him as he was growing up. I love that I can always compare how much our son Noah looks like him as a kid. I don't have many photos of me growing up nor do I remember any birthday parties I had as a kid and so it brings me so much joy to be able to document and capturing these special moments for Julianna and her mom. She already look so much more grown than our last mommy and me session a few months ago.
Julianna's mom is working so hard on making Julianna's Doc McStuffins birthday party spectacular! I know Julianna will always remember this and I hope that we will be lucky enough to do her High School Senior Portraits in a few years. And on the topic of birthday parties… to all those mamas out there planning birthday parties, you got this- your kids are going to love it no matter where you get that cake from or what color decorations were on the table. I myself am about to throw myself into party planning mode as Noah's 3rd birthday is coming up. All he wants for his birthday is for Superman to show up and so am on a mission to find him one- if you know one for hire, let a sister know- lol! But seriously, Superman is hard to find and I only have a month and a half- eek! I sometimes get caught up in the chaos of work, cleaning, doctors appointments, dinners, playdates and now to add party planning in there, I am glad to have stumbled across this quote and so glad to have had that little reminder. Enjoy!
"You will never have this day with your children again. Tomorrow they will be a little bigger then they are today. This day is a gift. Breathe and notice. Smell and touch them; study their faces and little feet and pay attention. Relish the charms of the present. Enjoy today mama. It will be over before you know it." -Jen Hatmaker