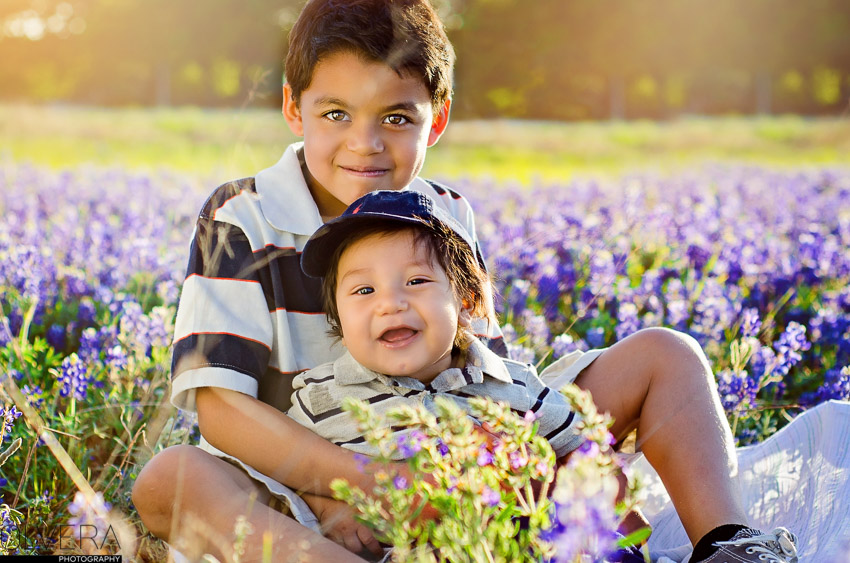 Our 2 youngest boys in 2014 – this photo was taken late afternoon just before sunset.
Last year I was on a mission to take some amazing bluebonnet photos.  If you know me then you know I am a perfectionist.  So its no surprise that I went hunting for the perfect bluebonnet fields just about everyday for  2-3 weeks (most of the time with my toddler in the Ergo – I seriously miss that thing!)  There were some days when I would go to the same place 2 or 3 times in a day.
Let me start off by saying a HUGE Thank You to all my mommy friends that were gracious enough to let me borrow their kiddos to practice bluebonnet sessions last year!  Thank you for believing in me! I will never forget it.  With that being said- now that I look back on my photos of last year, I can't believe how much has changed.  Now that bluebonnets are starting to peek out again and I am starting to see advertisements for mini sessions, I know it won't be long before my Facebook and Instagram feed are bombarded with tons of adorable kiddos in those beautiful blue and purple fields! Of course nothing would make us happier than to book a wildflower session with you, but as a busy mom, I totally understand that not everyone has time to plan a bluebonnet photo session (especially when these beautiful wildflowers only bloom for a very short period of time).  So for all of you out there that want do your own photos this year, I wanted to give y'all a few tips and let you know some of the  mistakes I made last year.  Hopefully they can help you to take some better photos this year!!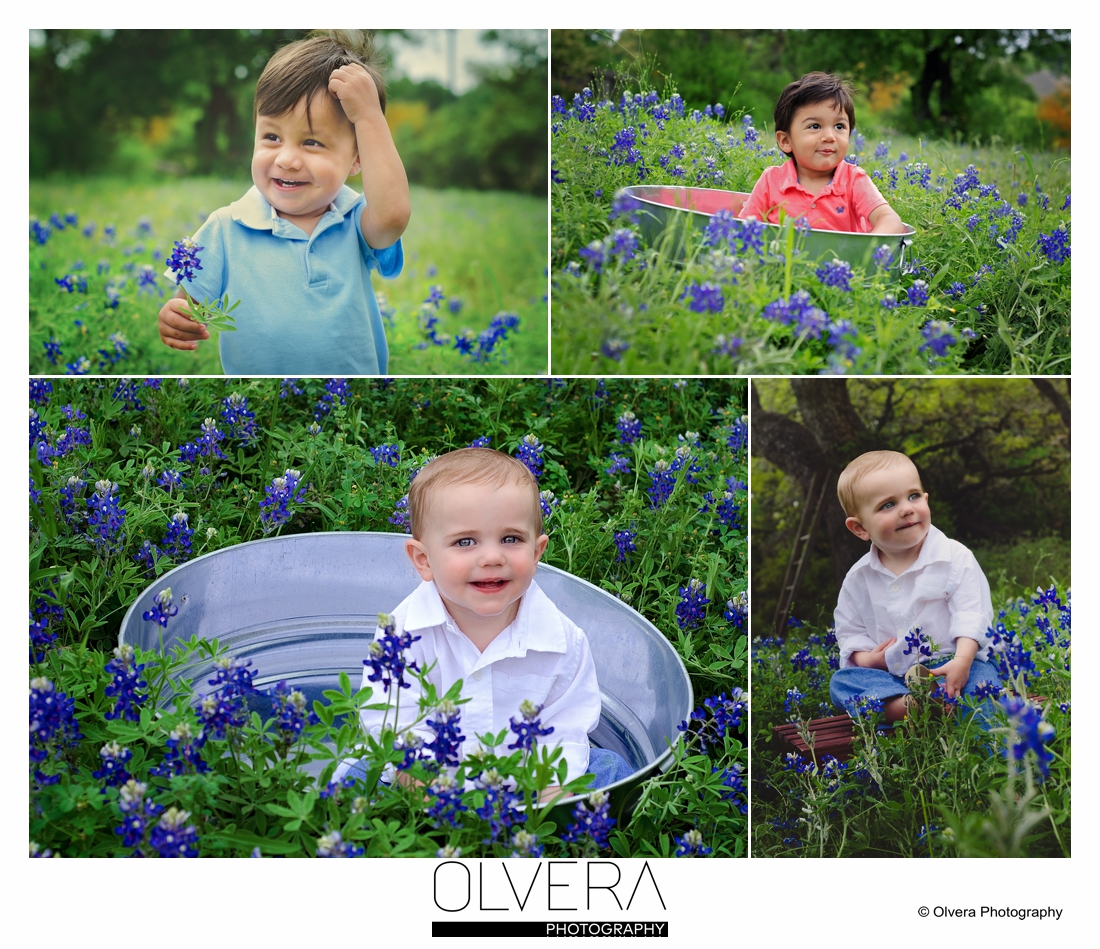 Ok so I'm not a good teacher at all- so I won't even try to get into teaching you how to work your camera or talk about settings.  These tips are just FYI's for those of you that want to take your own pictures.  These are a few of the obstacles I had to face when I shot bluebonnets last year:
One of the biggest mistakes I made last year, was shooting between the hours of 11am and 4pm on a bright sunny day.  The bright sun is not my friend- If you absolutely have to shoot in the bright sun, you want the sun behind or to the side of your kiddos as to not get those really squinty faces and to reduce harsh shadows. If you can find some shade even better.  The best time to take photos is early in the morning or later in the evening about just before sunset.  Overcast days are awesome because you can be a little more flexible with when you shoot. Although the sun is not bright on overcast days, shooting at high noon can still cause squinty eyes, so again face away from the sun.
It's hot and humid in March and April.  I dressed my son in a white button down and jeans.  Ok who likes to be in a button down and jeans in humidity? So needless to say, an uncomfortable kid makes for grumpy photos.
Mosquitos, bees, ants and chiggers.  Bring bug spray!  I so wish I would have worn my riding boots those days I shot bluebonnets too.  Ants and Chiggers are the worst! You can tuck jeans into socks to avoid getting bit at the ankles (if if are from the 90's you just got a flashback right?).  So if your kids aren't wearing boots, I would recommend you crop the photo right above the ankle.  Be on the lookout for anthills.  Also what I did was bring an extra pair of clothes for baby- when we were done shooting I quickly changed his clothes and put them in a plastic bag just in case the chiggers stayed on his clothes- and I definitely didn't want them on his carseat. Last week I found a tiny patch of bluebonnets but there were a lot of bees swarming on them so I opted to not put my son in the patch- I have been stung by a bee before and it is not fun! Safety first.  No shot is worth it.
Watch out for snakes.  Luckily, I did not encounter any snakes but I did hear about them from others.  So because I am super scared of getting bit by snakes- I brought a broomstick with me to shoots.  Before any kids were ever placed near the bluebonnets, I made sure I stomped around and hit the ground with the stick everywhere near the place I picked to shoot at.  Maybe I looked like a crazy person but hey- better safe than sorry.
Props- it's a good idea to bring a blanket, chair, crate, or basin. Putting the kids on the chairs, crates and basins gave me extra reassurance that no snakes or critters could get to them- plus the basin I brought was super cute in the field!  I know bluebonnets are flowers, but have you ever laid in a bluebonnet field? It's not like grass- I learned that the hard way.  Wildflowers most of the time are accompanied by weeds and stickers.  So yea those pinterest photos of the beautiful girl laying a field of bluebonnets so carefree and comfortable- not a reality.  Maybe that's just me though- I'm not a country outdoorsy girl, so those of you that are- please don't judge me- lol!
 Last but not least- Please be careful if you pull over on the side of the road to shoot.  I highly recommend not shooting in these areas.  People are so distracted nowadays that I am always afraid of a car running off the road.  You also have to be careful of private property, if there are fences, please don't go over them- they are there for a reason.  Some people have dogs or horses and I have heard of some electric fences in the area.  So please be aware of that.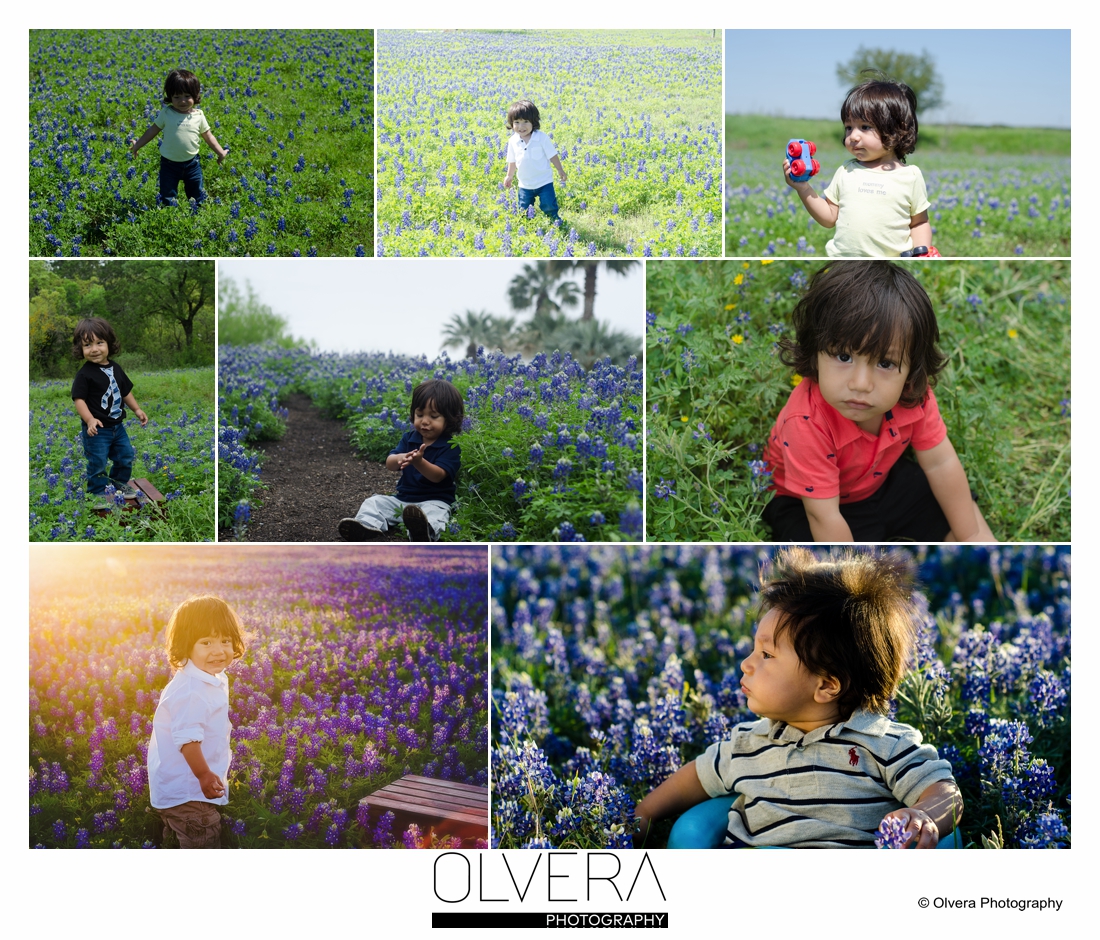 There are many places that have lovely wildflowers that are safe, you just have to do a little research.  Last year I shot at a few churches around town and even the San Antonio Botanical Gardens had a beautiful field. Castroville is a really nice area to find bluebonnets as well.  I'm excited to find and explore some new areas this year, so rain rain please go away- I need to find some bluebonnets!!!
I hope this post helps you all taking your own photos this year and if you don't want to take your own photos- feel free to give us a call, we would love to give you some beautiful photos!!!  I can't wait to see everyone's photos this year and if this post did help you this year, please share with us- we would love to hear from you 🙂