Extended family portraits w/Grandparents | San Antonio, TX.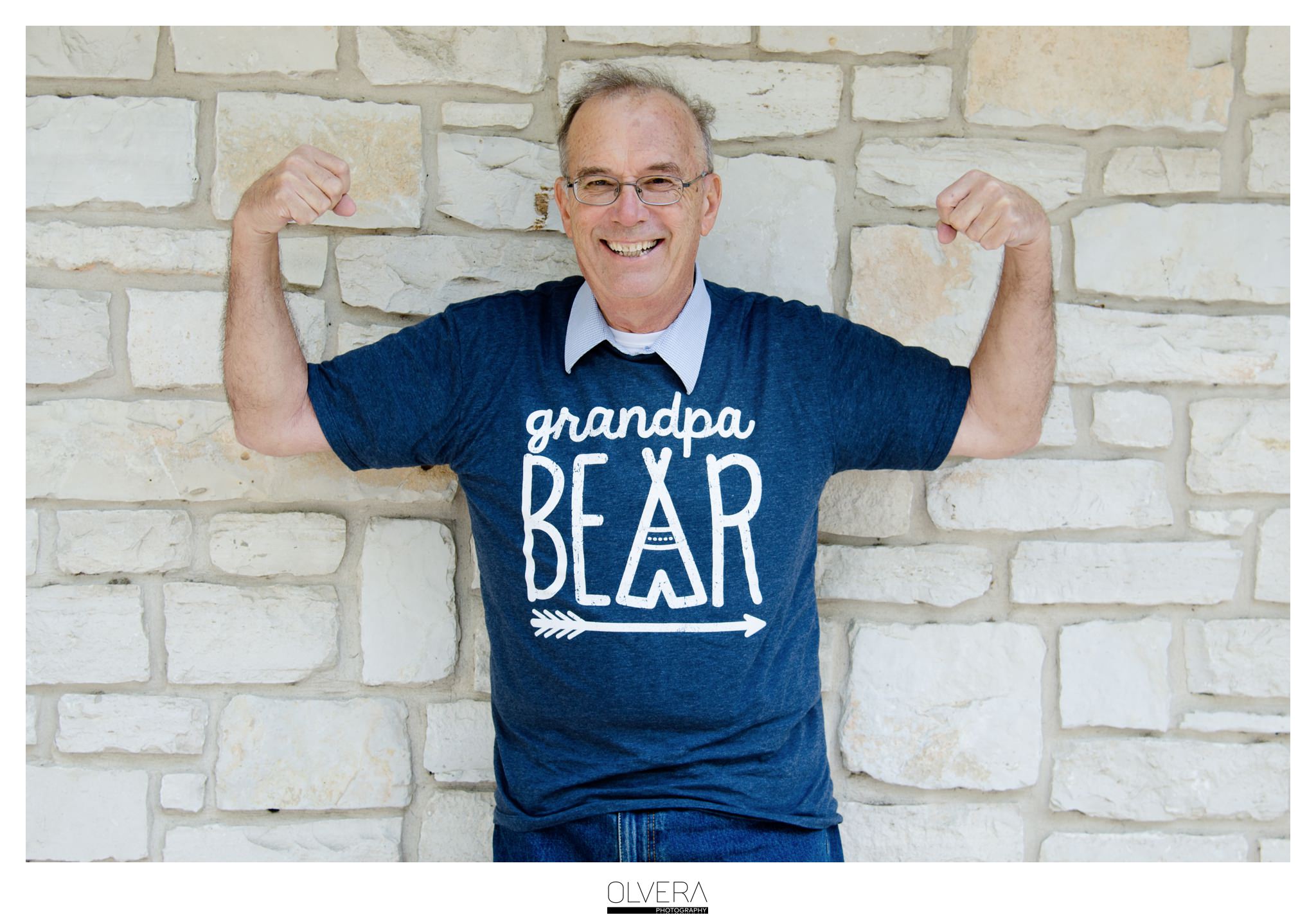 "So long as we live, they too shall live, for they are now a part of us,
as we remember them"
I struggled with the right words to say today. When you lose a loved one, I fear I never have the right words to say. I lost my uncle (more like my brother) 2 years ago and there's not a day that goes by that I don't think of him and how much I miss him. I never talk about it because I fear if I do I might just breakdown. I do find comfort in the photos I see of him. When someone posts a memory on Facebook or when I come across my own old photos, I feel a sense of comfort. He smiled in every single picture – even when he was trying to act like a tough guy- I still see that little half smile he couldn't hide. We lost a dear friend this past weekend. Sam and I met had the pleasure of meeting Al through his daughter Katie, who we have done family sessions for in the past. Last October we were happy to do an extended family session for Katie. Included in this session were Katie and her daughter, her parents and Katie's brothers family as well.
We planned it for an early morning at Brackenridge Park. It was a beautiful morning and Sam and I absolutely fell in love with Al. Before the session, Katie had told us that Al wasn't feeling well and that the doctors had found a tumor in his brain. The day of the session, Sam and I were not sure what to expect, I know we were definitely not expecting to meet a tall, young at heart, funny and loving father and grandfather. We just loved talking with Al, we loved hearing his stories about Katie as a child and loved seeing him interact with his grandchildren and the love of his life, Kathy.
Al and Kathy's love story is one that I only read about in fairy tales and saw in movies. They met in 1st grade and although Al said it wasn't love at first sight, he did say he knew in high school that she was the one. They would have celebrated their 46th wedding anniversary this coming Monday. At our most recent session last month, although Al wasn't feeling the best, he came to the session all dressed up and ready to smile- not only once, but twice. Our originally scheduled session was at the end of April but as soon as we started the session, Katie's daughter Kendall caught a stomach bug and had to be taken home. Al and Kathy were already there and dressed up so Sam and I asked if they would stay for a few minutes so we could catch a few photos of them. I was so happy that they agreed because we got a chance to get some wonderful photos of just Al and Kathy and that's when they shared their love story with us- oh and of course our favorite is hearing of Katie's childhood and love the way Al tells the story of the time Katie cut her own bangs!
We truly loved getting to know Al these last few months and are deeply saddened to hear of his passing. Such a great man, friend, father and grandfather. Sam and I could not feel more honored to have been able to capture his sweet infectious smile this past month. He was taken too soon but find comfort in knowing that he is no longer hurting or sick. Thank you Al for being such a real down to earth fun guy, we are proud to have been able to call you a friend of ours. Your friends and family will be in our thoughts and prayers during this difficult time. And as tears run down my face, we won't say goodbye, but we will say that you will forever be missed and we'll say until we meet again!
In the rising of the sun and in its going down,
we remember them.
In the blowing of the wind and in the chill of winter,
we remember them.
In the opening of buds and in the rebirth of spring,
we remember them.
In the blueness of the sky and in the warmth of summer,
we remember them.
In the rustling of leaves and in the beauty of autumn,
we remember them.
In the beginning of the year and when it ends,
we remember them.
When we are weary and in need of strength,
we remember them.
When we are lost and sick at heart,
we remember them.
When we have joys we yearn to share,
we remember them.
So long as we live, they too shall live, for they are now a part of us,
as we remember them.