Congrats Class of 2017! Welcome Senior Class of 2018!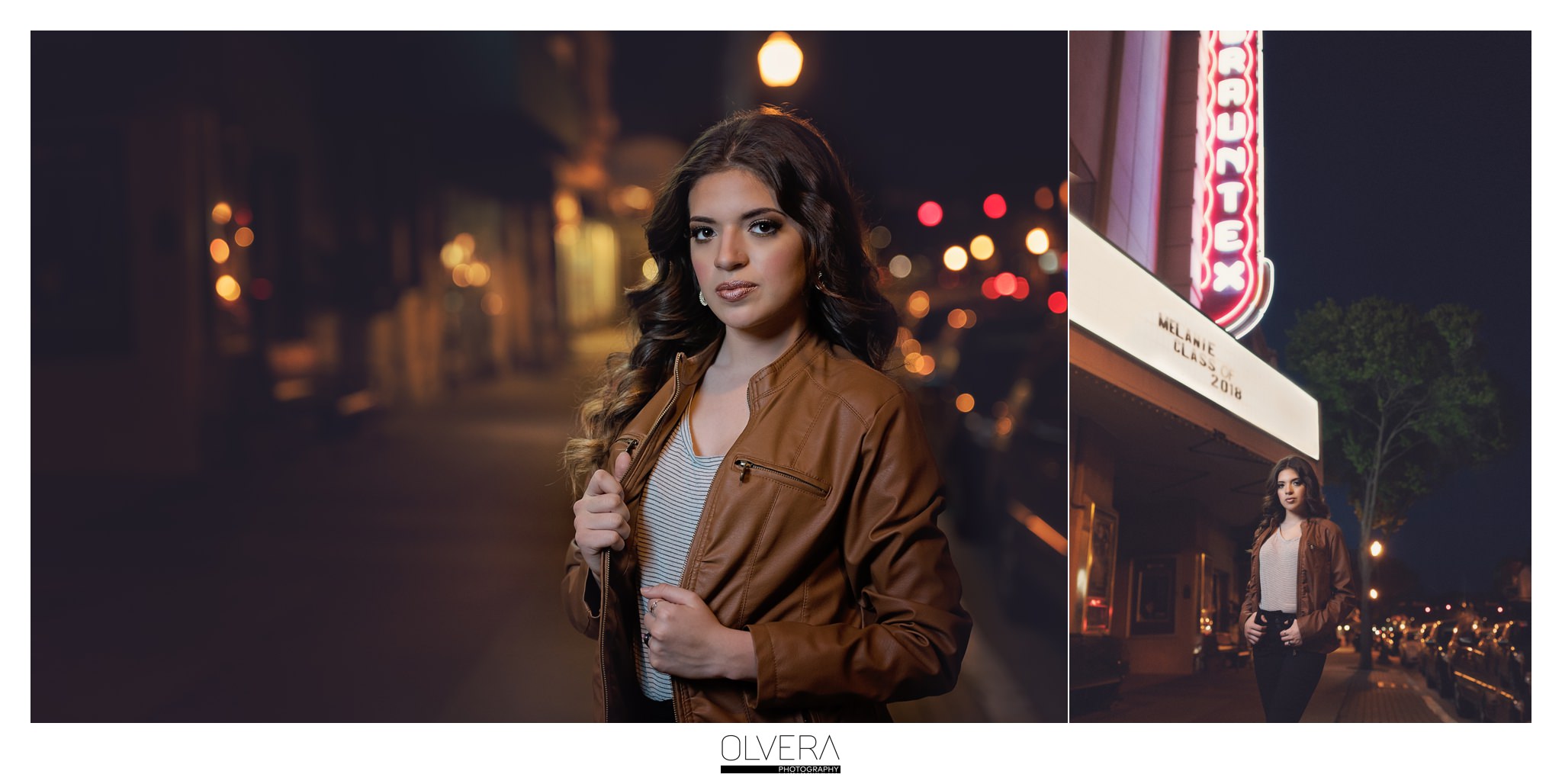 2018 Senior Portraits|Faust Bridge and Brauntex Theatre|San Antonio Senior Photographer
I can hardly believe the time has come to finally share our first 2018 Senior! Meet the gorgeous Melanie, Samuel Clemens High School Junior soon to be a Senior. Not only is Melanie beautiful, but she is hard working, smart, absolutely hilarious and best of all she has the biggest heart. When you are around her, her kind-hearted spirit just puts you in a good mood. She is a complete jokester and always has us laughing. And how awesome were her hair and makeup? It was so awesome to work with Ana, owner of Hair and Makeup by Ana in San Antonio, TX. Not only did she travel to Melanie to do her hair and makeup, but she came with us to the shoot and was there to touch up Melanie's makeup throughout the session and when we switched from the daytime to nighttime look, Ana did her magic (in the parking lot no less)! Thank you so much Ana, for climbing up and down stairs and all the walking for the shoot, we couldn't have done it without you!
We started out at the Faust Bridge in New Braunfels and worked our way to downtown New Braunfels. The water area was so beautiful and the sunset that we caught at the bridge was absolutely breathtaking! When we first asked Melanie what her hobbies were, she said she did theater at school. I was so excited because I was in theater in high school and had always wanted to do a photo shoot at a theater. Mr. Martin from the Brauntex Performing Arts Theatre in downtown New Braunfels was kind enough to let us shoot there and we had so much fun. The evening was perfect- the weather was warm and breezy and Melanie was so much fun to work with. She was so easy going and had us laughing the entire time- not to mention this girl is a natural in front of the camera. We are happy to have met her and are already working on ideas for some more shoots soon!
Senior sessions are fun because no one session is like the other; every senior is unique and has their own special talents and personality. Our main goal is to be able to capture that personality now before they go off and start becoming adults. I somewhat remember my senior portraits, I just went to the place my high school advertised. Don't get me wrong, I had some great portraits taken, but as I look back on them, none of them look like me really, none of them captured my personality at the time. I remember feeling rushed as if there was another kid coming in right after me so I had to hurry. This is why it means so much to us to give our seniors an experience they will remember forever. We want them to look back at their photos and say "that day was so much fun"! We want their parents to look at those photos and know that we captured their daughter/sons childhood innocence as well as that spirit as they dive in to adulthood!
So much goes into planning a senior session from finding that perfect location to all those little details in wardrobe and makeup and we are here to help all along the way. We want to congratulate all the graduates of 2017, y'all were so awesome! There's still time to get those 2017 graduation photos done if you haven't yet and Class of 2018- it's time to start booking! Call us today!