Romantic & Playful Engagement Photos at Hemisfair Park/Yanaguana Garden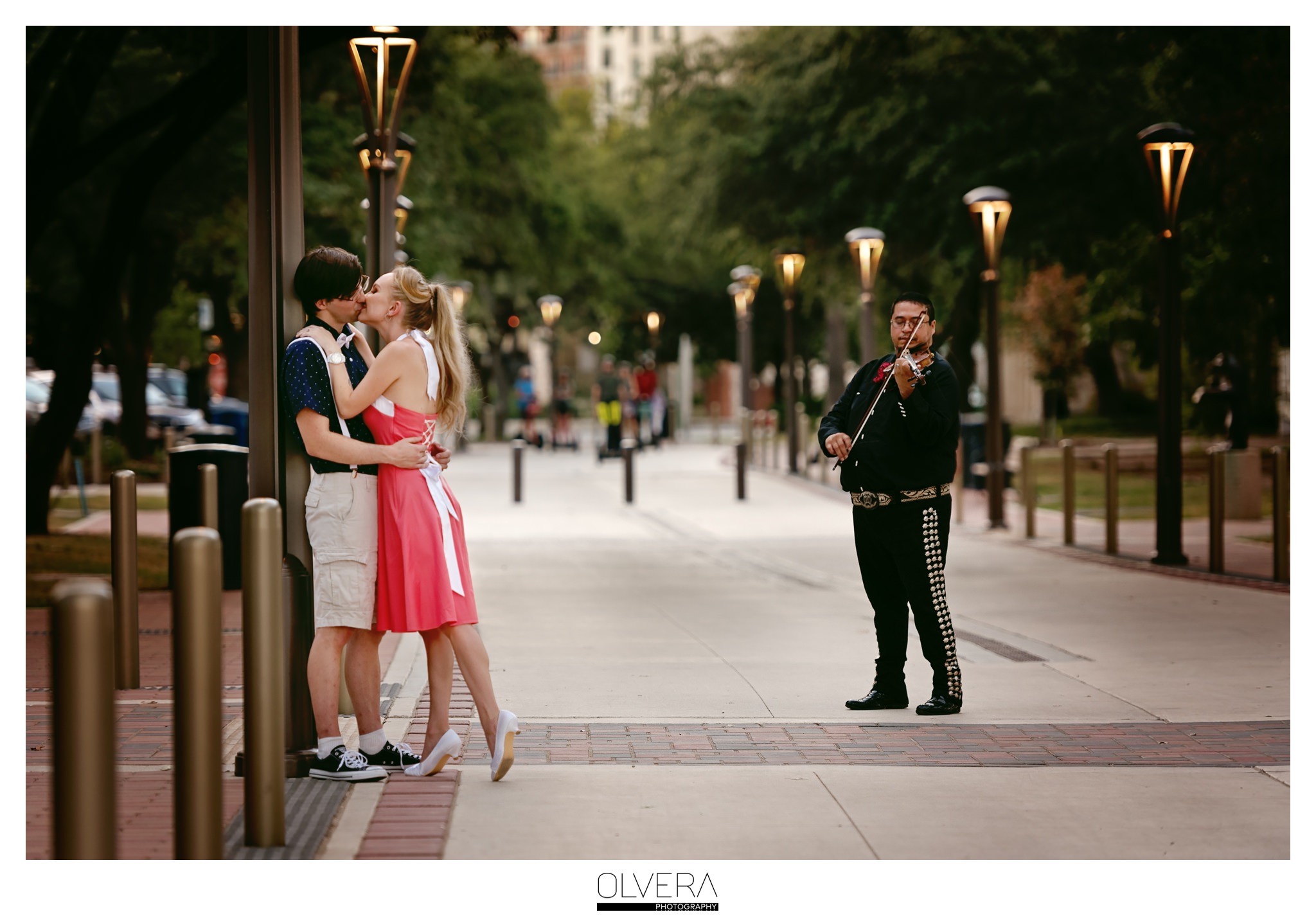 It was like a scene straight out of the Notebook! Seeing these two together and how much they love each other was enough to give bystanders the butterflies. This session was so much fun, Sam and I hardly had to work it was like watching a movie and before we knew it the sun had gone down. To say that Dominick and Mackenzie are madly in love is an understatement. We hardly had to give them any direction, we just told them to love on each other and the result was just magical. They even got serenaded by this amazing mariachi.
Sam and I always discuss cool ideas for our couples and I had remembered Sam describing a musician in the background of a photo months ago. So of course when I saw this mariachi walking by, instead of waiting for him to pass us by, I ran up to him and asked him if he would stop for just a second to be in our photo. After I scared him (from being crazy and running towards him) he agreed and as I ran to get back in position, he started to serenade them. I totally didn't expect that at all, it was the most romantic thing ever! I wish I would have gotten this guy's name because he was awesome and gave us what is probably one of my all time favorite portraits.
Not only were Dominick and Mackenzie naturals in front of the camera but they were such good sports despite the scorching heat (I think it was in the triple digits that afternoon). Thank you to Jax from Jax Studio for such amazing work on Mackenzie's makeup, it lasted through hundred degree weather and was just as beautiful when the session was over. I know I looked like a sweaty mess and after the session! I was so happy when Dominick said he had to have a paleta – I think we all needed one. Paleteria San Antonio totally hit the spot and the mangonada flavor is to die for!
The sunset was absolutely gorgeous that afternoon and we were glad that some sweet kiddos playing in the park at the Yanaguana Garden playground were kind enough to let us have a turn on the super cute round swing. I think the portraits in the park are a beautiful representation of this sweet couple's fairy tale love. We are so happy to have met these two and cannot wait to photograph their wedding next month at the Japanese Tea Gardens, it's going to be absolutely gorgeous.